Our cheeses
We keep a cheese in the basement of the Schwartzman house, in special conditions for several months, until the cheese will not get a special texture and flavor that characterize Schwartzman cheeses.
We make cheese from goat's, sheep's, cow's milk. Cheeses made from natural, fresh, pasteurized milk with no additives or preservatives. Animals on the farm Schwartzman live in pens located in the backyard and only family members take care of them.
Animals receive nutritious hay and fresh grass (not mixed with industrial silo). It enriches the taste of fresh milk and betrays a subtle and unique taste of our cheeses.
Our cheeses can only be bought on the  Schwartzman farm.
Goat cheese Tsfatit
 The original Israeli cheese. His first version was produced in Tsfat,  consequently,  hence the name. Cheese made from goat's milk, which gives him  stronger and  more dominant salty taste, in contrast to the cheese based on  cow's milk. We  produce a variety of options of this cheeses:
–  Tsfatit flavored with a special blend of herbs.
–  Tsfatitwith Nigella
–  Tsfatit with the grains of  dijon mustard
Labani
Labani – a soft curd cheese made from sheep's or goat's milk, with no maturation process. The taste is sweet or sour. Served as an appetizer before a meal with olive oil. Labani cheese formed of white balls in olive  could be used as a  spread on a slice of bread.
Manchego
 Manchego – Spain's most famous cheese, a gastronomic symbol of the country.
It is made from pasteurized sheep's milk in the Spanish province of Castilla La  Mancha, wich has hard climatic conditions.
Manchego is totally different from other cheeses because a hard climate of the  province forms a special kind of grass that serves as food for sheep.
Here, on the Schwartzman farm, we produce a similar version of the famous Spanish cheese. Cheese is made from sheep's milk and matured for at least two months in the forms laid out fresh hay, where he acquires a "sheep" flavor, herbs and nuts aroma.
Tom Cheese
 A good representative of the Italian semi-hard cheeses. Young Tom is sweet and  milky, but if it is to withstand 12 months, the flavor becomes sharper. Tom has  soft, leathery crust and supple and flexible texture. It has a fresh and creamy  taste of meadow flowers.
Initially – cheese with grayish-brown crust, with freckles from yellow to red.
Kashkaval
Kashkaval is a semi-hard cheese made from goat's milk (32-35% fat). In the Schwartzman farm, Kashkaval is made from goat's milk (can also be made from cow's milk). Strict production process ensures a long and deep flavor of cheese with a dominant taste of goat's milk.
This is a salty soft cheese, and it has a certain sharpness relative to other cheeses. A thin crust of the cheese is yellow-brown, darker with each passing day. Cheese has a long shelf life, even if it contains no preservatives.
Kashkaval is used in the Balkan cuisine. This cheese is kept for about six months: During this time, it receives a delicate flavor with a slight taste of olive oil.
A smooth surface is without holes or stains, straw-colored.
It is a perfect as a part of a cheese plate, used in salads, appetizers, also, could be used to sprinkle the pasta and pizza. This cheese is often fried in oil. Excellently combines with a young red wine such as Merlot.
Lubrichio cheese
Mature cheese, we produce it with the mold. The cheese is aged in brewer's yeast.
Chevrotain Cheese (Chevrotin des Aravis)
Chevrotain is a french soft cheese made from raw goat's milk, which is produced in the Savoyard city Chaone des Aravis, in Haute Savoie.
Chevrotain eaten with soft white bread and washed down with white or red  Savoyard wines, for example, is well suited white Roussette de Savoie.
Goat cheese Brie
 Brie is a soft ripe cheese, covered with a white "velvet" mold can be made from  cow's milk. This is one of the oldest French cheeses. It existed since the Middle  Ages, from the 8th century. It is surprising that since then Bree had never  changed. A homeland of the Brie – Meaux, east of the Paris. This Brie is still  prepared in the town of Meaux.
Brie is prepared by heating, followed by the screening of whole milk. Then it is salted, dried and allowed to mature and maturing consists of several stages. Scab or obtained naturally, or made especially with enzymes. Then the bacteria on the surface are growing, after that the cheese becomes a reddish-brown color.
Goat cheese Camembert
 Camembert – grade soft fat cheese manufactured from cow's or goat's milk. It has  the color from white to light cream. Taste is sharp and spicy, a bit like a  mushroom. Outside Camembert coated with white fluffy crust, formed from a  special cheese mold.
Camembert made from cow's milk, to which is sometimes added a small amount of skimmed milk. In the Schwartzman farm, Camembert made from goat's milk and gets a special unique creamy taste with a touch of white mold.
Cheeses made from cow's milk
Balkan solid yogurt
Yogurt – milk product wich produced by fermentation (bacterial fermentation) of the milk. The process is similar to the cheese manufacture. Our yogurt has a creamy texture and delicate flavor.
Cheese Tsfatit
The cheese has a fat content of small amount (5%), elastic consistency and the low level of salt, which gives it a unique taste: it tastes like unsalted cheese.
In Tsfatit producing, milk is pasteurized at a temperature of 72C, which ensures the safety of all nutrients and mineral milk (vitamins, proteins, carbohydrates, minerals, fats, etc.).
After separating the whey, cheese is left to mature  in straw baskets for several hours, which flipped several times to drain the remaining whey and acquisition of the necessary forms. Sold in small heads (200-300 g).
Tsfatit firstly manufactured in the city of Tsfat, which gave the name to the cheese.
Two cheese factory Tsfat started in 1840, and now are producing cheese for more than 170 years. Tsfatit is used in the sandwiches preparation, for salads, hot snacks, and pizza. As well as halloumi cheese, cheese Ttsfatit can be fried and eaten as a snack or a tasty addition to the breakfast.
Cheeses made from sheep's milk
Pyrenean cheese
 Cheese of the solid family. Since ancient times this cheese is made in Pireneyah,  in part, that was inhabited by French Basques. It is made from sheep's milk.  The Schwartzman farm produces a similar variation of this cheese.
The cheese is prepared by "pressing" and kept for at least 90 days. The cheese  has a very complex flavor, reminiscent of the taste of nutmeg and Swiss cheese,  edible brown crust goes well with dry white wine or a Chardonnay.
Pecorino Cheese (Bat Shlomo)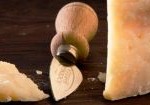 Made in Italy from sheep's milk. Pecorino is dry and hard, its maturing period  lasts from eight to twelve months. During this period, he gets a special taste –  from the salt to the fruit taste. "Aging" enhances the taste. The color varies from  white to light yellow. Crust if firm, smooth and can have light brown or dark  brown color, it depends on the maturing time. It contains at least 36% fat, and after maturation is used as a substitute for Parmesan cheese in the main areas of production.